Innovation contest: ZeroEmission@Berth
Niedersachsen Ports
A total of nine German seaports, including NPorts, have called for new concepts to reduce ship emissions as part of the ZeroEmission@Berth innovation competition in order to make ship operations at berth as low-emission as possible. Because of the use of fossil ship fuels both in regular ship operation and for power generation during berthing, ships currently contribute significantly to air pollutant and carbon dioxide emissions in the port and port environment. Innovative ideas, concepts and technology-open approaches were sought in the following categories:
Category A: Concepts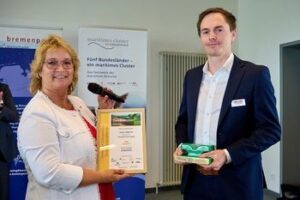 Conceptual descriptions for alternative energy supply approaches for ships at berth were sought, for example concepts that are still at an R&D stage, but which can demonstrate the potential for innovation. The award für concepts went to the Norwegian company TECO 2030 AS. With its eponymous Power Barge, the company wants to bring a mobile, floating zero-emission power supply for ships at berth and at anchor to market maturity, based on fuel cell technology. "A key aspect is that we look holistically at the port and the general conditions there for the use of our technology," Fredrik Aarskog, the company's Business Development Manager – Hydrogen Technology, emphasised at the award ceremony. Moreover, the system is not only suitable for use in port or at anchor, but also for ships in motion.
Category B: Prototypes
Ideas were sought which demonstrate technical feasibility, but for which development steps are still missing (for example, economic feasibility studies or further system developments).The winner in category B was CMB Germany GmbH & Co. KG, a subsidiary of the Belgian CMB Group. CMB has developed dual-fuel and mono-fuel applications for emission-free as well as emission-reduced shore power supply of ships at berth. "The innovative thing is that you can continue to use an existing technology – the diesel engine – but convert it to hydrogen," explained Benjamin Weinacht, Managing Director of CMB Germany. "We are taking into account the fact that hydrogen is not yet immediately available everywhere, because the machines can continue to generate electricity with diesel during the transition phase."
Category C: Existent Solutions
The search was for market-ready solutions that are already being used successfully in other ports or on board and are available, but still need to be adapted and/or scaled up. The winners of this category where the Danish companies Ballard Power Systems Europe and CS electric A/S. Their jointly developed and already certified product FC Wave supplies ships with emission-free energy from hydrogen. The fuel cells can be installed in 20-foot containers and are also particularly well suited for port environments thanks to their very low noise level. "Our approach was to use an existing zero-emission technology in a new environment – the port – that is looking to become more environmentally friendly in the future," said Thomas T. Petersen, Product Line Manager Marine at Ballard. "The solution has great potential, also because it can be scaled quickly," added Gert Andersen, Senior Sales Manager at CS electric.