Alternative Water Maintenance Technique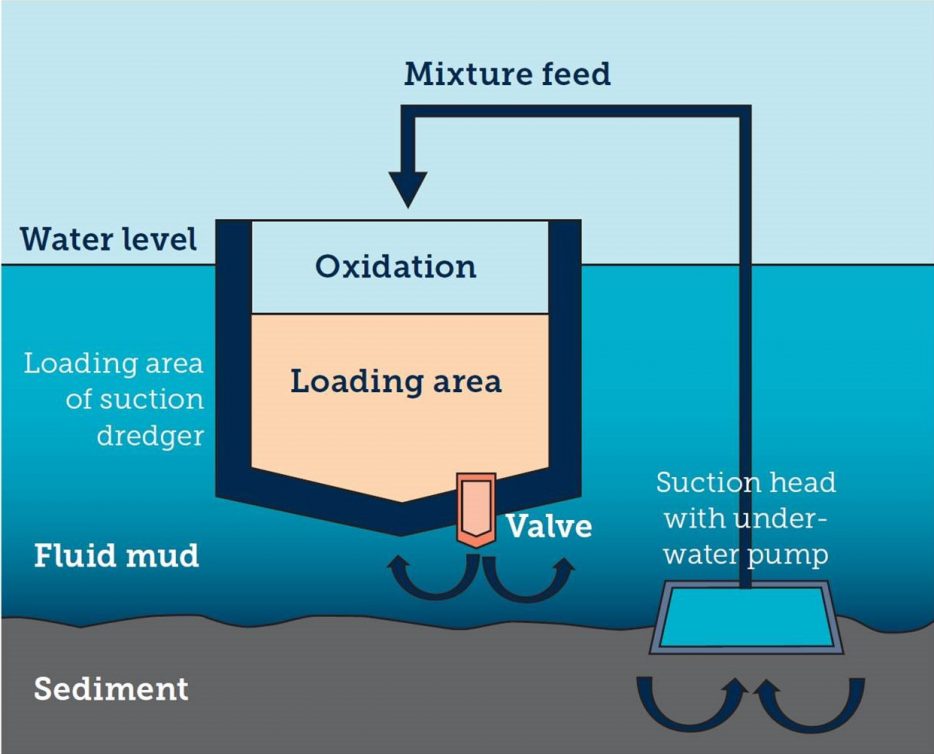 Emden
Due to its location in a brackish zone of the tidal Ems, a significant amount of suspended matter is washed into the port and is deposited there. Therefore, regular dredging must occur to maintain the required nautical depth. In 2000, we switched from dredging via removal, which is redeposited onto the land (flushing fields at Emden-Riepe and Wybelsumer Polder) to recirculation, without removal and depositing on land.
This process essentially involves regular treatment (recirculation) in order to stop re-solidification (consolidation) of the fluid mud situated at the bottom of the port waters, so that this maintains its fluidity, ensuring trouble-free shipping traffic.
The properties of fluid mud mean that it first becomes silt after an extensive settling period; colonies of bacteria are located in its individual particles that produce slimes, which prevent settling.
In order to ensure the particles do not settle, the suspended matter (particle-water mixture) is sucked into the loading space of the dredger. There is comes into brief contact with the outside air and accrued methane gas can escape. Once successfully oxidised, the dredged material is then redeposited to the bottom of the port waters.
Through continuous observation and careful planning, intervention can be limited to the most necessary. This preserves the environment and avoids unnecessary expenses.